CTM MATERIALS - EDITION 2015
CTM MATRIALS - EDITION 2015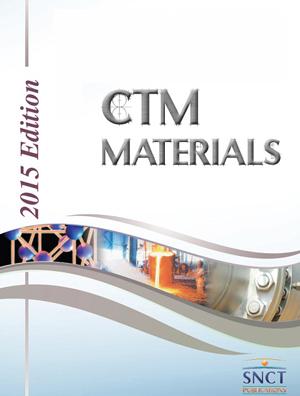 One book
   A complete and coherent set facilitating the use of construction codes.
   The structure of this book is similar to the one of the Materials Parts (Section M1, M2, M3 ...) of construction codes
    New book gathering the requirements applicable to materials intended for the design and manufacture of Pressure Equipment in the sense of the PED.
    The Materials parts of each of the codes concerned were arranged and included in a single book to create a coherent whole and facilitate the use of construction codes.
CTM Materials specifies the minimum requirements for:
- Choice of materials,
- Orders,
- Conditions of supply and examination of the products (flat products, tubes and tubular components, forgings, casted parts, bolts, filler materials) implemented,
- Choice of inspection documents,
- Prevention of brittle fracture risk,
- Elaboration of Particular Material Appraisal (PMA) relating to a number of specifications (NF A, ASTM / ASME, DIN).
Designation of Materials
The materials in this book are steels (non-alloyed, low alloyed and alloyed), austenitic stainless steels, austenitic-ferritic stainless steels, ferritic stainless steels, martensitic stainless steels, nickel and its alloys, aluminum and its alloys, titanium and its alloys and copper and its alloys.
How to use this book
CTM Materials must be used in conjunction with the construction codes for pressure equipment within the meaning of the Pressure Equipment Directive:
- CODAP® Divisions 1 & 2 (pressure vessels)
- CODETI® Division 1 (industrial piping)
- COVAP® Divisions 1 & 2 (steam boilers)
CTM Materials offers material grades from European standards and American standards.